THATO: Tele Haptic Assistance for Tactical Operations
A Tactile Display for Dismounted Soldiers
The TeleHaptic Assistance for Tactical Operations (THATO) Android application was developed to aid dismounted soldier-to-soldier communications, situation awareness, and navigation during tactical operations. THATO stores tactile message designs that are dynamically instantiated with context specifics and played through its interface to Tactile Control Units (TCUs) when a command is received from another soldier, the soldier's location relative to a planned route or landmark/entity of interest triggers a message, or the soldier requests information. The soldier is able to give commands using the Android's touch screen, through voice recognition, or through a separate handheld Wiimote-like device that is connected to the Android.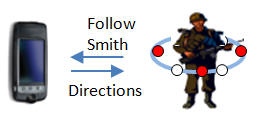 Lab Experiment Results
In December 2012, a lab experiment was conducted at the United States Military Academy (USMA) where twenty cadets were taught twelve tactile messages, each with between one and four pieces of information (Chapman, Nemec, and Ness, 2013). These participants in the study were then tested on their ability to recognize the messages and respond with appropriate physical behaviors in a virtusphere (a 10 foot hollow sphere capable of rotating upon wheels placed beneath it). Overall, participants recognized all parts of a message 95.9% of the time.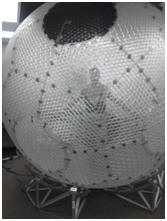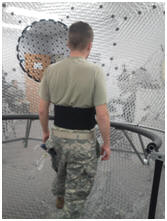 Piloted Field Experiment
High fidelity lab experiments in a virtual environment offer many benefits - for instance, weather and terrain are not an issue, less ruggedized equipment can be used, and the logistics for setting up the experiment are normally simpler. However, a field experiment in an outdoor environment is more realistic for tactical operations. In April 2012, the design for a field experiment was piloted (Chapman et al., 2012) at USMA for a dismounted soldier scenario. The results suggested the experimental design and protocol were sound, and opportunties to improve the hardware and software were identified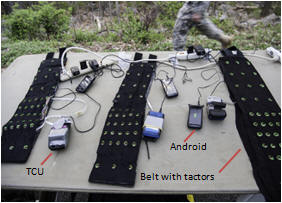 [ Download Flyer ]
References
Chapman, R. J., Nemec, L., & Ness J. (2013). The Evaluation of a Tactile Display for Dismounted Soldiers in a Virtusphere Environment. Proceedings of the Human Factors and Ergonomics Society Annual Meeting. San Diego, CA.
Chapman, R. J., Riddle D. L., Puryear, J. E., Breeden, J. R., Ramirez, & Hall D. S. (2012). The Design and Evaluation of THATO: A Mobile Tactile Messaging System to Assist Dismounted Soldier Tactical Operations. Proceedings of the Human Factors and Ergonomics Society Annual Meeting. Boston, MA.
Riddle, D. L. & Chapman, R. J. (2012). Tactile Language Design. Proceedings of the Human Factors and Ergonomics Society, Boston, MA.